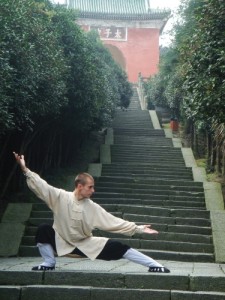 Damo Mitchell, author of the bestselling books Daoist Nei Gong and Heavenly Streams, will deliver the keynote address at the National Qigong Association's 18th Annual Conference on Saturday, July 27, 2013 in Valley Forge, Pennsylvania. This event represents Damo's second excursion to the US, following a series of successful lectures in the fall of 2012.
Damo's keynote at the NQA conference is entitled Nei Gong: A Union of Qigong, Philosophy and the Dao.
This talk will focus on the Daoist transformational teachings of Nei Gong. Like a conduit for the forces of Yin and Yang, human beings can learn how to connect with and utilize the Qi of the environment to gain better health and psychological well-being. For any process there must be a catalyst, a pivotal factor which leads to progression; Nei Gong is the study of this process. Firmly built upon a foundation of philosophical teachings, Nei Gong provides a systematic way to experience the essence of the teachings of the Dao. In this address, Damo will discuss the meaning of Nei Gong, the philosophy which underpins it and lift the shroud on much of the secrecy surrounding its teachings.
Following his keynote, Damo will be signing copies of his books, Daoist Nei Gong and Heavenly Streams, at a reception hosted by Singing Dragon.
To attend, please register for the conference: NQA Conference Registration
Damo Mitchell has studied the martial, medical and spiritual arts of Asia since the age of four. His studies have taken him across the planet in search of authentic masters. He is the technical director of the Lotus Nei Gong School of Daoist Arts, and teaches Nei Gong in the UK, Sweden and the United States.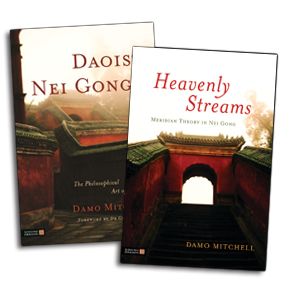 Purchase Damo's books in advance by clicking the links below.

Heavenly Streams: Meridian Theory in Nei Gong
"Heavenly Streams not only provides a truly comprehensive introduction to Nei Gong and Chinese medicine from the point of view of Daoism but offers the reader an effective way to understand this information within themselves."
– Nick Lowe, practitioner of Chinese Medicine and Daoist Qigong Instructor   More…
Daoist Nei Gong: The Philosophical Art of Change
"This book drills down into the golden core of the ancient Chinese art and science of internal self-cultivation known as "Chi Gung" or "energy work", and after reading it, you'll understand why Chi Gung is the best way on earth to protect your health, prolong your life, and clarify your awareness of both aspects of the "Three Treasures" of life – mortal body, breath, and mind; and immortal essence, energy, and spirit."
– Daniel Reid    More…

Learn more about Damo: