Damo Mitchell, author of the bestselling book Daoist Nei Gong, will be teaching for the first time in the United States in late September and early October 2012. His first course will take place in Oklahoma City, September 28-30. Following is a description of the course from Damo's website:
This event will be looking at the nature of the human Heart-Mind. This Alchemical course will be covering the Meditation practices which are an integral part of Daoist spiritual exercises.

What is my connection to the world?
Why do I do the things I do?
Am I 'stuck'?

This three day course will give those wishing to study Daoist Meditation a chance to begin looking at the nature of their own consciousness and its relationship to the acquired mind which we so often associate with. Through connecting with the energy which flows from our consciousness into our physical body we can begin to see if there are imbalances which are preventing us from developing psychologically and spiritually as we should.
For more information on this course or to register, please visit: Oklahoma Meditation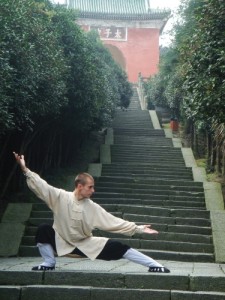 To follow up, Damo will be offering a series of workshops in Columbia Maryland, October 5-7. Here are some details:
Friday 5th of October: 7-8.30pm – Introductory Evening


This is a free event for those who would like an informal introduction to Daoist Nei Gong practices. Damo will give an overview of the Daoist internal arts and talk about the philosophy which underpins his teachings as well as answering questions and discussing Daoism. The evening will conclude with some internal practices as a warm-up for the weekends events.

Saturday 6th of October: 10.30am-6pm – Nei Gong Foundations

This day long workshop will look at the core practices of Sung breathing and Daoist Qi Gong exercises. A strong foundation will be built and then the initial layers of Nei Gong training will gradually be added to the practice. The emphasis will be on gaining an understanding of the Daoist internal systems and freeing up blockages from the body.

Saturday 6th of October: 7pm-9pm – Daoist Meditation

On the Saturday evening, those who wish may join Damo for a special class which looks at the practice of Daoist meditation which is also known as Internal Alchemy. Teaching will focus on initiating the firing process within the lower Dan Tien and awakening the small water wheel of Qi.

Sunday 7th of October: 10am-4pm – Daoist Nei Gong Practice

On the Sunday Damo will be teaching a day long workshop on the more advanced elements of Nei Gong training. The focus will be on gaining conscious control of the energy system and awakening it to clear pathogens from the energy body. Please note that some of the material on this workshop will be fairly advanced and so participants should have either prior knowledge of the internal arts or have attended the workshop on Saturday.
For full information about these events and to register, visit: Maryland Events
Related Posts on the Singing Dragon Blog: