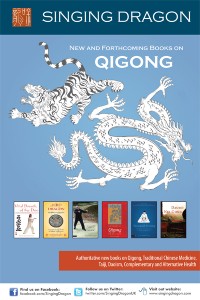 Our brand new US Qigong Catalog is now available. If you have not yet received a copy, please sign up for our mailing list and we'll send a free one out to you ASAP.
Readers in the US who request a copy of the catalog before November 30, 2012 will also receive a coupon good for a 15% discount on the entire Singing Dragon list of books. Take advantage of this opportunity to purchase a copy of Damo Mitchell's Daoist Nei Gong, to get hold of Fire Dragon Meridian Qigong by Master Zhongxian Wu, to discover the practice of Taoist meditation as explained by Yin Shi Zi in Tranquil Sitting or if you would like a fresh copy of the perennial classic, Embrace Tiger, Return to Mountain by Master Chungliang Al Huang, this is your golden opportunity.
Click this link to see our full listing of books on Qigong.
To request your copy of our US Qigong Catalog, please click here. To receive your 15% discount coupon, please be sure to click the checkbox for "qigong" under area of interest or else mention this offer in the "any further comments" section.
If you have previously received a copy of the catalog in the mail and would like to take advantage of the 15% discount, please feel free to request a coupon via email at post@intl.singingdragon.com.