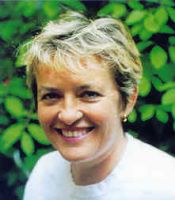 Edeltraud Rohnfeld qualified as a yoga teacher at the Berlin Yoga Institute Asha Rekai in 1991. She taught private yoga classes in Berlin for 15 years and trained yoga teachers and healthcare professionals. She later specialised in chair yoga, learning from its founder Erika Hammerstroem. She moved to Ireland in 2008 where she runs seminars on chair and classic yoga.
Here, Edeltraud talks about the many benefits and joys of practicing yoga, and how the exercises in her new book,
Chair Yoga: Seated Exercises for Health and Wellbeing, can help individuals with physical disabilities take control of their bodies and their lives.
---
What drew you to yoga, and how did you develop an interest in the seated form?
When I was 22 my sister showed me my first yoga exercises. I had just returned from a six-month trip to Israel feeling a little confused and without a clear perspective. I had reached a point where I was wondering what I should do with my life. Discovering yoga helped me not only physically, but emotionally too. Every time I did yoga something beautiful happened in me. It was different than doing sport. Not only my body benefited, but my mind and my soul as well. I began to feel more stable and gained more clarity in this very uncertain period of my life. I became more focused and was able to be more aware of all the possibilities life had to offer me. I practised yoga for years and undertook numerous courses. As I became more knowledgeable, I began to practice yoga with small groups of friends and it gave me such a pleasure that I then decided to become a Yoga Instructor.
Two years after completing my education in 1993, I met Erika Hammerstroem – the founder of Chair Yoga. She was an experienced Yoga Instructor who felt a strong need to aid group members who sometimes found it impossible to continue classes due to physical, aging-related limitations. Not wishing them to be excluded from participating in their much loved yoga classes, she began to adapt and devise exercises based on the classic form of yoga but using a chair instead of a mat. The interest in the classes was so great that she then went on to educate the Instructors so they could go on to teach classes. I was one of her students and I began to take my own chair classes in addition to mat yoga.
I began to develop more exercises as my experience grew. I wanted to share as much knowledge as I could and, realising the interest was so great, I decided to write a book about it. Erika Hammerstroem loved the idea. Sadly, she passed away in 2004 at the tender age of 82, just a few months before my book was published in german. I dedicated my book to her and to the angel to whom we prayed together.
I have been teaching both Classic and Chair Yoga for the last 17 years, and I get great pleasure from teaching anyone who loves yoga. My hope for the future is that Chair Yoga will be practised more widely throughout the world, allowing yoga to become more accessible to people who previously thought they could not do it, and to offer my seminars to Yoga Instructors all over the world.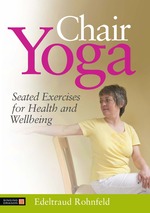 What are the key benefits of practising Chair Yoga?
The key benefits of Chair Yoga are very similar to those of Classic Yoga. The only difference is that the risk of injury is significantly reduced on the chair. The whole body is moved and becomes more supple. Movements incorporate the spine, and all muscles and inner organs get gently stretched and strengthened (including the heart). The exercises support circulation, enabling better oxygenation to all the cells of the body, to the digestive system and to the immune system. It helps to reduce and cope with stress, anxiety and insomnia and increases self-esteem. By practising Chair Yoga frequently, one can feel more balanced in life and it can enable you to have more joy in life whilst becoming more flexible.
How does the book reflect your general philosophy about health and wellbeing?
In my opinion health and wellbeing is about finding a balance between one's physical and psychological needs. By undertaking yoga frequently, one can improve and maintain good flexibility and strengthen muscles. Combining this with a good balanced diet, sufficient rest and regularly practising relaxation techniques, one can achieve good physical wellbeing.
The body and mind are strongly linked; if the body feels healthier, the mind will feel clearer and calmer and perhaps more receptive and better able to deal with the challenges in life. People need to have more self-awareness of their individual needs. Yoga empowers people to be more able to focus on their individual needs and not to give in to negative influences.
There is a strong connection between people feeling emotionally stressed and experiencing physical symptoms. Rather than trying to suppress worries and fears, yoga helps people confront their anxieties instead of ignoring them. This in turn can help us become emotionally strong and empowered. It has certainly helped me to find my way through difficult periods in my life, and to have faith and be more accepting of the things that I cannot control.
With my book I want to encourage everybody who is interested in practicing yoga to take their life in their own hands and make the best out of it. Despite any physical or psychological limitations, you can still practice Chair Yoga and significantly improve your health and wellbeing.
Why was it important to include a section about diet?
Whilst practising yoga greatly improves one's health and wellbeing, in order to achieve the maximum benefits one needs to eat healthy too. A student who smokes, drinks alcohol and eats "junk food" will not gain as much from yoga as an individual who does not.
Throughout my years teaching yoga I've met many people who are not well-informed about how to make healthier dietary choices – for example choosing to eat "whole" foods as opposed to refined foods. Additionally I've had many students who were unaware of the importance of drinking water frequently while practising yoga. Yoga helps the body excrete accumulated toxins. With enough water the body is able to flush out these toxins; failure to drink enough water can result in headaches and joint and generalised pain throughout the body.
It was critical for me to inform my readers of the role diet and nutrition play in complementing yoga and in improving one's health.
However, as I discuss in my book, it is not necessary for the individual to be vegetarian or a non-smoker in order to practice yoga. Awareness and understanding may enable students to begin to gradually change and alter their eating, drinking or smoking habits. It is important for people to achieve this in their own individual way. Many of us acquire bad habits over a period of years and therefore changes must be made slowly and at a realistic pace. Yoga is not about pressure or force and every person must respond to their own goals at their own pace.
How should this book be used?
First and foremost, I would recommend that the reader examine the Introduction and exercises. Try a few exercises which may be of particular interest or proceed to "Chapter 13: Exercise Guidelines" and start with a 15-minute program.
Depending on how you find the program, extend it to a 30-minute program in the next session. Try not to over-do the sessions. Instead, give yourself small realistic goals such as 2-3 times a week for 15 minutes, and aim to continue this at regular intervals. As you feel more and more able, increase first the length of each session and then the frequency.
Remember never to force yourself to do yoga, but practise it with joy!
Copyright © Singing Dragon 2011.