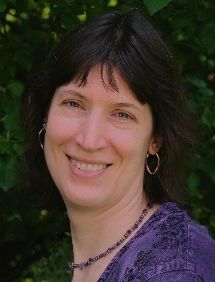 Julie McKay, CST-D, NCTMB, BFRP is Director of The CLEAR Institute and a highly respected therapist and teacher. Julie has spent over 10 years refining her techniques that she uses to dialogue with clients, and she is passionate about helping others learn how to become more effective therapists.
Here, Julie discusses her recent book, The Insightful Body, the events that inspired her to develop SomaCentric Dialoguing, and the many benefits of this remarkable and effective technique.
Two events have greatly influenced my work with clients and my developing SomaCentric Dialoguing. The first was when I was six years old. I fell off my bike and hurt my knee. My mother taught me that I could tell my body that it didn't have to hurt anymore because I got the message that it needed attention. Mom suggested that I make my knee feel soft like a marshmallow, thus helping it to relax and be pain-free.
The second came after being a professional bodyworker for ten years, when bodywork came to my rescue. It took 18 months of intensive manual therapy, acupuncture and chiropractic care to figure out that what seemed to be nerve pain from a possible slipped disc was actually from abdominal fascial restrictions, from a thrown phone book hitting me in the stomach. The word "pain" did not accurately describe what I experienced. This experience made me realize that my clients, particularly those with fibromyalgia, chronic fatigue or post traumatic stress disorder, might have a similar problem finding the right word to describe how they felt.
When colleagues asked me to teach them how to effectively dialogue with their clients I wrote down all the concepts that had made a difference in my work. I quickly realized that there was no one source that described the importance of word choice and asking open-ended questions, avoiding the use of certain words ("pain" does not mean the same to everyone, so it is one of the No-No words), empowering clients to tell me if I am inaccurate about something (I call this Wiggle Words), and the difference between beneficial protection mechanisms and resistance obstacles.
It is important to talk with a client in her "processing language." My client responds easier when I speak using her manner of processing information, through auditory, kinesthetic, or visual channels. The last crucial concept is that people have different ways of communicating. Some are clear-cut and to the point communicators, others want to bond before getting down to business, some are spurt-workers and extremely creative, while others want endless details before making decisions. I got better results and realized that a client can more effectively get in touch with what is going on in her body when I dialogue with her using her communication style and processing language, rather than talking with everyone in the same manner.
I use simple and yet profound dialoguing techniques to help my client to effectively let go of holding patterns and pain in her body. Putting these concepts and techniques together, I created SomaCentric Dialoguing. The goal of SomaCentric Dialoguing is to help my client understand and articulate what her body wants her to be aware of, helping her to heal more deeply, rather than just removing the physical symptom and "fixing" the problem. This results in core physical, mental, and emotional healing.
Copyright © Singing Dragon 2010.