Our Singing Dragon Complete Catalog for Spring-Summer 2014 is now available. With full information on our expanding list of books in Qigong, Bodywork, Yoga, Taiji, Aromatherapy, Craniosacral Therapy, Chinese Medicine and a variety of other disciplines, our complete catalog is a tremendous resource for complementary health practitioners and anyone interested in enhancing their own health, wellbeing and personal development.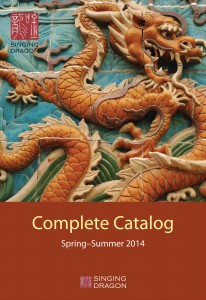 To receive a free copy of the catalog, please sign up for our mailing list and we'll get one out to you right away. You may also request multiple copies to share with friends, family, colleagues and clients–simply note how many copies of the catalog you would like (up to 20) in the "any additional comments" box on the sign-up form.
We hope you will take advantage of this opportunity to get more information about our outstanding new and forthcoming titles such as The Spark in the Machine by Dr. Daniel Keown and The Four Dragons by bestselling author Damo Mitchell. The catalog also contains information about the newest forthcoming paperback from Jennifer Peace Rhind, Listening to Scent and the most recent addition to our growing nutrition list, Eat to Get Younger by Lorraine Nicolle and Christine Bailey along with over 150 additional books, DVDs and other resources.
Click this link to see a listing of new and recent titles from Singing Dragon.
To request a copy of the Singing Dragon complete catalog, please click here to fill out our sign-up sheet. Please be sure to click any additional areas of interest as well. You should receive a copy of the catalog within two weeks.