Celebrate Chinese New Year with
Singing Dragon!
Did you know that in true Chinese astrology, not just the year, but also the month, day and hour of your birth matters?
Take this quiz to learn more and test your knowledge of Chinese astrology – the topic of the new Singing Dragon book, The 12 Chinese Animals: Create Harmony in your Daily Life through Ancient Chinese Wisdom by Master Zhongxian Wu.
About the Book
The Chinese horoscope holds the key to a better understanding of self and others, and to living a life of harmony. Making the wisdom of the twelve Chinese animals accessible to the Western reader for the first time in its relationship with the Yijing, The 12 Chinese Animals will teach you how to better understand your personality, and make choices that profoundly influence your health, relationships, career, and finances, allowing you to live up to your greatest potential.
About the Author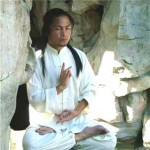 Master Zhongxian Wu is the lineage holder of four different schools of Qigong and martial arts. Since 1988, he has instructed thousands of students, both Eastern and Western. He synthesizes wisdom and experience for beginning and advancing practitioners, as well as for patients seeking healing, in his unique and professionally-designed courses and workshops. Please visit www.masterwu.net for details about his teachings.
Copyright © Singing Dragon 2011.