I have been asked frequently of late about whether or not mindfulness 'works'. Personally, I think it neither does nor doesn't work as it is something that one can neither succeed nor fail at. I appreciate that just because it can have an effect on the quality of life for some individuals with Asperger's Syndrome, including my own, it doesn't necessarily mean it is for all. It can be easy to become put off from mindfulness practice when one feels that their mind wanders so much that they can't calm it, and become more frustrated through just 'trying'. But just simple noticing of the mind wandering is a good start. One of the most useful pieces of therapy I have had for coping with set-backs and disappointments is not to expect anything to go right, including mindfulness practice.
Too often when we set out to see or experience something that interests us or we are enthusiastic or passionate about or what has always been on our bucket list of things we would like to do, we almost expect to have a great time that we forget that there is the possibility that something might go wrong, and when it does, feelings can include not just disappointment, but also frustration, which in turns results in low mood.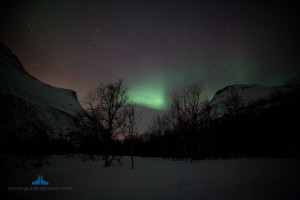 An interesting way to potentially experience disappointment as well as learn how to cope with it in a positive way is through chasing the Aurora Borealis, or Northern Lights. Some have been fortunate to have seen the Northern Lights in the UK 2014 courtesy of a recent powerful solar storm that resulted in a Coronal Mass Ejection (CME) strong enough for its impact on hitting Earth's atmosphere to be visible much further south than normal. But as Northern Lights enthusiasts know well, more than just strong solar storm activity needs to occur to have a chance of seeing the lights, even when one is around Earth's magnetic pole above the Arctic Circle in Tromso, Norway, a clear sky is needed and for the phenomena to be visible, solar storm activity has to be at the right level and has to happen at a certain time.
It is human nature to want an explanation as to why phenomena like the Northern Lights happen and as a result many myths have been associated with them over thousands of years, as they could appear very brightly without warning. The Sami, native to northern Scandinavia, believed that they came about when an arctic fox ran over the mountains leaving behind a mist while the Greenland Inuit believed them to be the souls of babies yet to be born.  Though solar storm activity is generally constant, even with present technology, it is still very difficult for astronomers to predict when CMEs will hit Earth's atmosphere. With the added need of a clear sky, those on Northern Lights chases can experience either wonders or disappointment.
However, being aware that the phenomenon isn't guaranteed to happen is a good way to prepare for potential disappointment. From images of northern Scandinavia, it can be assumed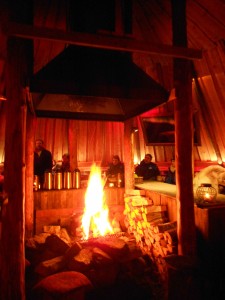 that the Northern Lights appear just about every night, but when visiting, one finds that reality and perception are two very different things, including the often harsh reality of adverse weather conditions for those who live there. After two nights looking for any signs of looking for any signs of aurora with no luck and poor conditions for aurora viewing including low cloud cover, when the adverse weather conditions of heavy snow, wind and cloud cover continued into my third night, when instead of thinking about whether or not I would see any aurora activity I had become more accustomed to the thrill of being in the Artic in heavy snow with access to the warmth of an open fire in a Sami tent, there came a break in the clouds and I managed to see a green tinge of aurora activity!
The aurora display that I managed to see was visible for only a few minutes until it was obscured by cloud again. But when it did appear, it provided me with a little reminder of how to approach mindfulness practice, which similarly with aurora chasing, not to have any expectations as to what its effects may be.  Aspects of Asperger's Syndrome, including high anxiety, low self-esteem and depression can't be 'eliminated' through mindfulness practice, but in time, the effects of mindfulness practice can help one deal with such issues, including coping with disappointments in a positive way.
During CME's, which cause the phenomenon, the Sun loses some of its mass, which weakens its gravity, contributing to earth's orbital period, and the year, gradually becoming longer, a reminder that the concept of clock and calendar time is neither fixed nor permanent, as are any effects of mindfulness practice. Understandably, if a person with Asperger's Syndrome who experiences high levels of anxiety relies on the relative predictability of structured clock and calendar time, natural time as it unfolds can be a difficult concept to grasp. However, by initially just noticing reliance on structured time can help to see how it can become a controlling factor in one's life when, including noticing certain habits that arouse from such routines. Any effects of mindfulness are more likely to arise in the much more abstract nature; natural time that we can't often see rather than in the clock and calendar time we see frequently and come to rely on.
Just as it helps when going aurora chasing not to expect to see any aurora activity, similarly when seeking mindfulness practice, it helps not to have any initial expectations of any effects.
Chris Mitchell is the author of Asperger's Syndrome and Mindfulness (2012) and Mindful Living with Asperger's Syndrome (December 2013) both published by Jessica Kingsley Publishers.