As a new author to Singing Dragon, Giuliana Fenwick's first book, Indian Head Massage For Special Needs, sees the pinnacle of her work so far in a very short space of time. However, it is very much the beginning of the platform as she continues work as an author, public speaker and fundraiser for special needs, helping to give a voice to those who so often do not have one. Hear her story below…

Giuliana's Story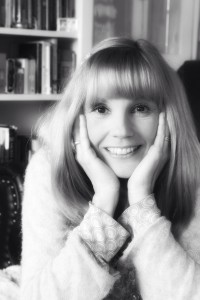 I refined and specialised my massage by blending several complementary healing systems and more importantly by working on my second son, Ollie, who has ASD and OCD. He is a beautiful round peg who simply couldn't fit into a round hole; who in spite of his many gifts and abilities, just couldn't tick boxes and who silently drowned every single day, unsupported and surrounded by a total lack of expectation. As a family we had also hit very hard times; I was often on my own and had broken my foot. Determined that we could all pull through, I hurled my crutches into the back of the dustman's lorry one morning, borrowed some shoes two sizes too big to accommodate my swollen foot and asked a friend to drive me into the nearest town each day so I could knock on doors to schools everywhere and work for free to prove my method worked after seeing the wonderful benefits to my son. The results started pouring in and within six months I had a sustainable business.
And so my story began …
Fast forward four years and I now work full time in schools and specialist academies. I now train parents, carers, teachers, therapists and other professionals all over the UK, including charities such as MIND. My work has also taken me into Europe in both training and public speaking roles, working with charities such as ASHD, ASD & LD Belgium.
Last July saw me raise over £1660 for special needs. I am very passionate about this work!
My biggest joy is my work at Foxes Academy, subject of a very recent channel five documentary, "The Special Needs Hotel". This work is the most joyful and rewarding of my career. One of the stars of the series, Harriet, later appeared on This Morning and said how her dream would be to open a coffee shop which offers head massage! Click here to watch the show.
To see my "clients" relax, lower their boundaries, sleep better, focus better, increase their productivity and concentration levels, start to embrace experiences and try things they were previously afraid to do, are just the start of the benefits reported back to me weekly. Trust, engagement, openess, clear thinking and confidence – yes, even confidence! – are just a few more I see daily. The results start to happen from the first session. Listening to my young people and placing them in control are key.
650+ case studies later I was being told to patent my method but I have always wanted to share rather than make my work exclusive or expensive. I want my techniques accessible to everyone, regardless of budget. I know how it is to watch your child unravel and feel so helpless. I want to help as many people as possible.
Writing this, my first book, was the perfect answer.
My dream would be to set up training centres for my massage and I would employ qualified ex learners from Foxes Academy to run the attached cafes, thereby putting my money where my mouth is, and showing that those with differences deserve a future.
That will then leave me time to write my next book…
Read a FREE extract from the book, and find out more about specific case studies HERE.
Indian Head Massage for Special Needs is NOW AVAILABLE.
This complete manual introduces unique Indian head massage techniques to help reduce feelings of stress and anxiety, calm sensory overloads, improve sleep patterns, ease frustration and boost mental, physical and emotional wellbeing in people of all ages with special needs, including Autism Spectrum Disorders. The book provides everything you need to get started, including:
A full, step-by-step, illustrated massage routine

 

Essential tips on how to create the perfect environment and how to approach clients with special needs
Detailed case studies (Free extract HERE)
Information on anatomy, physiology and the complementary approaches to the body
Supplementary information on essential oils
Developed by Giuliana Fenwick through work with her son, and extensively trialled in schools and specialist colleges, this tailored Indian head massage is perfect for anyone looking to provide additional support to people with special needs, including parents and carers, teachers, teaching assistants and other school staff, complementary therapists and any other professionals working with people with special needs.
Find out more about Indian Head Massage for Special Needs HERE.
Read a very inspiring LinkedIn post about Giuliana's very talented son HERE.