Ten reasons why authors Lawrence Pagett and Paul Millward want you to read this book…
When Singing Dragon agreed to publish our book on EFT, Principles of EFT, we were excited.  And here's why:
For a start, it was an opportunity for us to spread the word that a simple tapping process is now out there – freely accessible and freely available to everyone -and that EFT could dramatically change your life in all sorts of amazing ways.
In this book, we invite readers on a magical EFT adventure. You will not only learn all about how to use EFT first hand to bring about wonderful shifts and changes in body, mind and spirit, you will also be taken on an historical and mystical journey into the ancient Chinese origins of this wonderful tapping modality.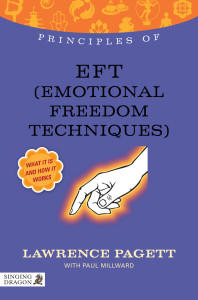 Before EFT came along, there was nothing really on offer that could powerfully and rapidly shift phobias and traumas. Now, in learning about EFT, a lifelong phobia can often be removed within a matter of minutes, or even seconds. It's hard to put a value on such a life changing transformation.
EFT's outstanding ability to quickly eradicate emotional issues such as anger, anxiety, fear, or sadness, is hard to imagine. Unless you have first-hand experience of the power of EFT, then it is almost impossible to comprehend its effectiveness – but, with the help of this book, you can quickly come to understand the power of this treatment.
Principles of EFT is an excellent book for newcomers to energy work and experts alike. It has been hailed as being essential reading for the professional alternative practitioner.
Faith Waude founder of Hypnotic World highly recommends the book:
It's not easy to find the words to do justice to this work. This book is a must for anyone in the healing profession who wants to provide their clients with an easy but effective method of helping themselves in-between sessions and also for those wishing to take action to restore their own sense of wellbeing or equilibrium.
The Forward was penned by none other than International author energy empress Dr Silvia Hartmann (Chair, The Association For Meridian and Energy Therapies). In her own words:
 EFT – Emotional Freedom Techniques – is a huge breakthrough for humanity.  Before EFT, we were afraid of emotions – of other's and, most of all, of our own own…I would lay these pages to follow close to your heart and invite you to an exploration and an adventure like no other – to find out what life can be like when we live in emotional freedom.
That's nine reasons for you getting Principles of EFT. What about the "tenth" reason?
We are confident that when you do read it, like us, you will fall in love with EFT and want to recommend it to your family, friends, professional colleagues and loved ones.  It is our expressed desire, hope, and prayer that by reading this book you gain emotional freedom, and in so doing help create a better future for yourself and those you love.
If you're still not sure, why not check out these FREE extracts and find out for yourself:
Foreword from Dr Silvia Harmann (Chair, The Association For Meridian and Energy Therapies).
The Emergence of EFT – an extract
You can find out more about the book, read reviews or order your copy here.