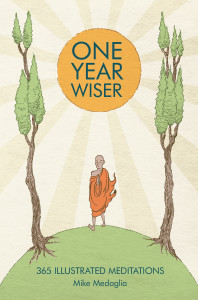 This month we would like to host a guest blog post by Mike Medaglia. Mike is a comic artist and illustrator with a brand-new comic book, One Year Wiser: 365 Illustrated Meditations, published by SelfMadeHero. Mike is also known at JKP and Singing Dragon for his invaluable contribution as an art editor and project manager on a bunch of new exciting comics projects. Enjoy!
Hello and welcome! My name is Mike Medaglia and I am an editor at Jessica Kingsley Publishers. I am also a comics artist and have been helping develop a line of comics for both JKP and Singing Dragon.
On September 9th I have a book of my own coming out called One Year Wiser: 365 Illustrated Meditations. It is a one a day book with a quote from a writer, artist or thinker that has been adapted into a full page illustration. It is published by SelfMadeHero, an independent comics publisher, and will be available in the US, Canada and the UK. All the quotes for the images were chosen because they have messages of positivity, hope, encouragement and love.
I have been working on this book for the past year and posted an image online every Monday since January. You can see them all here.
One Year Wiser is also available as a colouring book. With the illustrations already having a reflective tone to them, it seemed natural to adapt the images so they could be used for colouring in. Adult colouring books have grown in popularity recently. There is something so relaxing about pulling out your crayons or markers and getting back to the simple act of colouring in. It brings back days from childhood and is also a chance to do something tactile and creative and to take a break from endlessly staring at a screen.

My work at Jessica Kingsley Publishers and Singing Dragon
Now, to say a bit more about my role here at JKP, I have been working since January as an art editor and project manager on a bunch of new comics projects. We are taking topics that JKP and Singing Dragon are well known for and are using the medium of comics to explore them in a new way.
Our first release was Pain Is Really Strange, written by Steve Haines and illustrated by Sophie Standing. It is a research-based comic that looks at how strange pain is and how understanding it can often be the first step to relief. It did, (and it's still doing!), extremely well and its publication made us both excited and proud.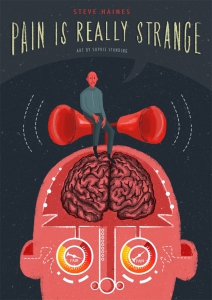 And at the end of this month we are also very excited to be publishing When Anxiety Attacks by Terian Kosick. It is a personal account by Terian of coming to terms with her anxiety and how she eventually chose to seek therapy as a way of coping with it. It is as funny as it is informative and a perfect introduction to the different options available to help manage anxiety.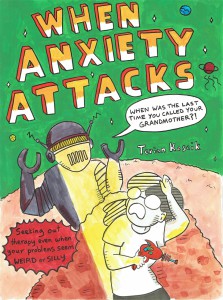 We have some more really great comics projects in the pipeline that are set to be released over the coming months. Comics is such a diverse art form and I am so excited to be able to help work on books with JKP and Singing Dragon that use comics to discuss such important topics!
If you want to find out more about Mike and his work visit his website http://mikemedaglia.com/
For more on Singing Dragon and JKP new comics projects visit our websites http://intl.singingdragon.com and http://www.jkp.com/