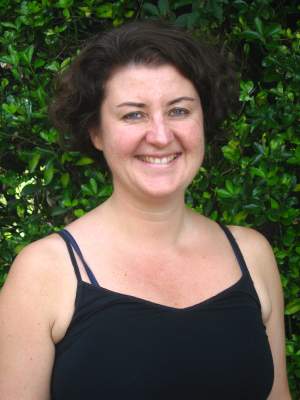 Isobel Knight is a dancer who has Hypermobility Syndrome (HMS). She completed her MSc in Dance Science at the Trinity Laban Conservatoire of Music and Dance in 2009, and now works as a Manager in the clinic there, also giving lectures on HMS from time to time.
Here she answers some questions about her new book,
A Guide to Living with Hypermobility Syndrome: Bending without Breaking.
---
How has Hypermobility Syndrome shaped your life as a dancer?
I did ballet from the age of five and loved it straight away. I saw my first Nutcracker at age seven in London for my birthday treat, and remember watching the dancers on pointe and thinking I would really like to do that. I got the book, Life at the Royal Ballet School by Camilla Jessel as a Christmas present in the same year, and was fascinated by the training the ballet dancers had to go through, and their very obvious dedication. That book is still one of my favourites. I would still love more than anything to go and spend a few days at White Lodge watching the dancers learn.
My dancing career has been very 'stop-start'. I danced from age five to nine and only got to Grade 1 level and then stopped owing to a change of schools. I then started dancing again at the age of 13 and all my former classmates were in either Grade 5 or 6. I had a lot of catching up to do, but really relished the challenge. I remember when I had not long been back that one of the girls in my class said to me, "you've got lovely turn-out, you are so lucky." And I was. And I am, largely due to my having Hypermobility Syndrome (HMS) which means I have a larger than normal range of movement and, in dance, allows me to achieve positions that most other 'normal' people find too stressful on their bodies. In many ways I have a good body for classical ballet (except I am not a size 8, and tiny and petite). I have very good rotation at the hip because of my hypermobility. I have good strong feet (not always in keeping with some hypermobile people) and a pleasing arch of the foot, a flexible back and good extensions. I was also aware early on that my legs were what my teacher called "swayback", which was another aspect of hypermobility, and my legs were and still are an interesting shape because of knee joint hypermobility and this is desirable in ballet for additional leg extensions.
However, despite my hypermobility being an advantage to me in some ways, interestingly, my coordination isn't very good and, while I did well in classical ballet, I failed miserably at sports. Impaired coordination is another common symptom of hypermobility. This means that sometimes it takes me longer than others to learn new movement patterns. And because of the larger range of motion, there is always so much extra to manage and control for the hypermobile dancer.
When I re-started ballet at 13 I had a lot of catching up to do. I would often attend the classes of the younger children and stand at the back so I could learn all the steps I had missed since giving up at age nine. When puberty hit, many of my classmates gave up ballet as their bodies tightened up and they were struggling with their own lack of turnout and the demands of the higher grades of the syllabus. I, on the other hand, was coping very well with the changes in my body – aside from growing pains and a very regular calf pain and cramp, which was so severe I often couldn't walk normally first thing in the morning! These were probably the first signs of HMS, but I had also broken my leg when I was seven and have never walked properly since that time, walking far more like a ballet dancer than a 'normal' person.
Just after I finally took Grade 6 and Pre-Intermediate exam, just weeks prior to my 18th birthday, I started to get lower back pain. At first my teacher and I thought that I had overdone things, but after it had persisted for a few weeks – mainly being painful in positions such as arabesque – I was sent to my GP and I had my first sessions of physiotherapy which did briefly improve the pain. Unfortunately it never went away entirely and I battled on with this until I was 23, having had more time out of ballet owing to university. I then took my Intermediate (Vocational Grade Examination) and had a year of doing Advanced Level 1 ballet before the pain took its toll. I reluctantly decided that I had better stop as I thought the dancing must be exacerbating my back pain.
Tell us about your diagnosis – did it help you
Following an eight year break from ballet, I took it up again after attending a pain management course where I learned that "pain didn't always equal damage." By then my back pain had been diagnosed as related to a disc prolapsed at L4/5 and disc degeneration. The reason for the pain would have been caused by hypermobility at this section of my spine and a complete lack of muscular strength to control it. The disc diagnosis is very much secondary, I believe. The pain management course incorporated exercises and stretches to recondition our de-conditioned bodies and psychological strategies including pacing activity and goal-setting. Upon discussion with the doctors and physiotherapists at my pain management course, there was universal agreement that I could return to doing classical ballet; that it would not be detrimental to my back pain providing that I paced my return to class very carefully.
I started to do syllabus classes with a local dance school in my area in South London. This was in late 2006. I was very frustrated initially because my brain remembered how to do the steps, but my physical body found it very difficult. I stopped again in 2007, dancing from the privacy of my flat, and then started to do classes at Danceworks in Central London, which are open classes of many levels. I started doing a class where I knew the teacher, but kept on injuring my calves. From late 2007, I went on a diet and started to lose much of the weight I had gained owing to my complete inactivity. As I started to feel better in myself, I started to do more and more classes, even though I wasn't really ready for this, and in February 2008 partially tore my right calf muscle. However, this for me was not the end of ballet, but just the beginning of a very long journey to recovery, as it turns out, at the mercy of HMS, which was diagnosed in 2009.
We were doing some testing for dancers at Trinity Laban and this was the first time that I seemed to fit into the category of potentially having Hypermobility Syndrome. Very shortly after that my physiotherapist (Katherine Watkins) suggested that it was very likely, but of course the ultimate diagnosis comes from a Consultant Rheumatologist.
When I received my diagnosis I was initially quite upset because I really didn't want this 'thing', and just thought I was very flexible. But the more I started to find out about the condition, the more it was obvious as to why I had so many problems all my life – e.g. walking late, being clumsy and having poor coordination, regularly injuring myself and then ending up in constant pain. I then pieced other related syndrome features such as having fatigue, asthma, IBS, and it all begun to make sense.
What is your day-to-day life like with HMS?
I have to think through the results of my actions and normal movement that other people would take for granted can have huge repercussions for me. For example, just doing too many reps of an exercise can cause overuse injuries and induce serious fatigue very quickly. Lifting my nephew too many times fatigues my arms and shoulders to the extent I can hardly hold a newspaper the next day.
The fatigue combined with the pain have also meant that I am often just too tired and have no energy to manage socialising and going out at the end of the working day, resulting in my cancelling social events often. It is very difficult – and I have let many friends down – but luckily most are tolerant and are usually understanding.
How did the book come about – what motivated you to put pen to paper?
I think I was fed up with having to explain to people constantly why I was always getting injured and was so often in pain. I felt that there was an essential need to tell my story and explain, through the eyes of a person with HMS, just how insidious and multi-systemic this condition is.
I also felt there was a need to justify my symptoms and show that that neither myself nor other HMS patients are hypochondriacs – that the pain, fatigue, and constant injury are real aspects of the condition. So I wanted to write the book to support other HMS patients, but more than anything else to try also to educate medical professionals and explain to family and friends just how difficult this condition can be to manage. I also identified a gap with respect to patient-led literature on the subject; other sufferers told me they really wanted to try and write about their experiences but often got too fatigued in the process, something I can very much identify with!
What is your outlook for the future as a dancer with HMS?
I think that subconsciously I knew that I would never have a career as a dancer (with or without the HMS). I never really enjoyed performing as a dancer, (although as a musician, I do!) and just knew I didn't have the right physique for classical ballet. I think I knew that I would love a career that involved working with dancers, so I have managed that successfully in working therapeutically with dancers, as well as my work at Trinity Laban as the Clinic Admin Manager.
I have always loved the discipline and structure of classical ballet classes. My body knows how to do most of the movements, and it has always felt "right" for my body. Since I have now been through an extensive physiotherapy rehabilitation programme which is likely to have to continue in a maintenance capacity forever, I think that my chances of safely continuing classical ballet classes for a much longer period are more likely. Indeed, I hope I will still be doing ballet when I am an old lady! If I keep matching my strength to my flexibility, and listen to my body when it is too fatigued to dance safely, there is no reason why this shouldn't be the case. Exercise is a crucial aspect to the management of HMS, and what better exercise than classical ballet, where being hypermobile is a natural and aesthetical asset. Finally, having the eye of a good ballet teacher is absolutely essential, and the support and guidance of a expert HMS physiotherapist. Without these two I would have more difficulty in continuing to pirouette in safety!
Copyright © Singing Dragon 2011.